Atlanta, GA
Experienced Slip and Fall Lawyers
Have you been injured by a fall on someone else's property? While accidents do happen, in many cases, falls are the result of negligence or the failure of the property owner to maintain the premises. If you have sustained injuries in a fall on public or private property in Atlanta, GA, or the surrounding area, contact Lamar Law Office to learn more about your options.
Not Afraid to Fight for Her Clients
For years, Atlanta-area personal injury attorney Anita Lamar and her legal team have been helping clients like you to recover damages related to slip-and-fall incidents. Thousands of accidents that involve falls occur in Atlanta each year, leading to medical bills, missed work days and ongoing recovery issues. Georgia law protects victims of negligence who are injured in falls; if you have been in an accident, you may be able to receive compensation.
Anita Lamar treats each of her clients with personal concern, listening to your unique circumstances and crafting a defense that establishes liability and helps you get the best possible outcome. If you have sustained injuries related to a fall anywhere outside your own personal property in the Atlanta, GA, area, call personal injury lawyer Anita Lamar today.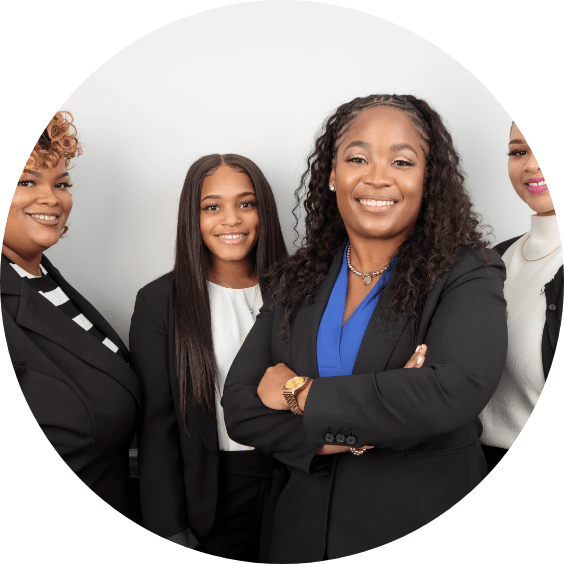 ACCIDENTS HAPPEN
Injured on Someone Else's Property? Call Lamar Law Office
You might have been moving along a slick walkway, climbing up your neighbor's rotting porch steps or slipping on a patch of wet floor in a retail store, but the result is the same: You've fallen and hurt yourself through no fault of your own. Falls like these harm thousands of Atlanta, GA, area residents each year, causing loss of mobility, permanent pain, temporary or even permanent loss of employment and an inability to perform household activities or hobbies that you enjoy.
Georgia has what's called a "modified comparative negligence rule" that means that some blame could be assigned to you, even when the property owner is clearly at fault. In a case that goes before a judge or jury, you might end up shouldering as much as 50 percent of the responsibility for the accident, which can dramatically cut the amount you're entitled to for paying medical bills and recovery.
You need an experienced legal advocate who understands Georgia personal injury law and can fight for your rights. You don't want to wait around, either, because there is a statute of limitations that gives you a short window of time when you can make a legal case against a negligent property owner. Our personal injury law office in Tucker, GA serves Atlanta and surrounding communities.

Attorney Anita Lamar Can Help You Recover
Did you know that psychological stress makes it harder to heal from injuries? It can be stressful trying to navigate through medical issues while you're dealing with insurance companies and trying to get compensation for your accident. Handling your own case is not only stressful, but could lead to you missing out on compensation that you're entitled to under Georgia law.
With Anita Lamar on your side, you'll not only be able to heal from your injuries with the least amount of stress, but you'll also have a partner to help you recover the expenses associated with your medical bills, missed work and damages related to your trauma. Years of experience with personal injury cases means that Anita Lamar knows how to get the best results for you. The Lamar Law Office puts special emphasis on great customer care throughout the legal process, so you'll be able to focus on physical recovery from your accident. Located in the metro Atlanta area, we serve all communities in the surrounding area, including Decatur, GA law cases.
What Our Clients Say
I am so happy that I had The Lamar Law Firm on my side after my accident. Attorney Lamar and her entire staff were nothing but pleasant, professional and diligent in handling my case. I was given a thorough explanation about each stage and regular updates on the status of my case.
Attorney Lamar was recommended by a family member and she definitely lived up to their recommendation. My accident happened in the worst time of my life and it was very stressful with having to be off from work and going to therapy. Anita and the team were very professional and kept me in the loop with EVERYTHING.
Attorney Lamar and her team have been totally awesome from day one. I don't always have to call them they call me to check on me. I totally would recommend them to anyone. Excellent service!
I'm extremely pleased. I received the max compensation for a car accident that wasn't my fault. Mrs. Lamar's team was very responsive, kept me involved in the entire process and I receive the maximum amount that the insurance company offered for my injuries and damages.
Attorney Lamar is professional and kind. She is always willing to lend a helping hand. She also holds her own in the court room.
This law firm is on point and truly looks out for their respective client.
I am highly recommended Lawyer Lamar to anyone who's involved in a car accident. She handles the case with professionalism and makes sure you get your car fixed and get pay for your medical compensation
Thank you for representing me and handling my case so efficiently & professionally! The settlement is much more than I expected.
Attorney Lamar and her Amazing Team are so very professional, knowledgeable, caring and they communicate extremely well with you every step of the process! Attorney Lamar actually calls you herself to discuss details and she is also available for you to call her as well.
I have to give Attorney Anita Lamar outstanding praise. I have never had an Attorney that was as attentive to my concerns and case as Mrs. Lamar was.
More Than Legal Services
We Care
Lamar Law Office is built on personal client care and building relationships with our clients to provide exceptional customer service. Anita Lamar didn't want to be just another attorney, taking cases without any personal connection, so she's worked hard to create a legal environment where clients like you feel comfortable. Our team communicates with you so you know exactly what to expect on every step of the path through your legal case. Accidents may happen every day, but they don't happen to you — and you need the reassurance that you will achieve justice in the face of someone else's negligence. The team at Lamar Law Office provides more than just legal services… we truly care.
Contact Us

Frequently Asked Questions
The first thing you need to do after an accident is to get medical treatment. You need to get assistance for your injuries and have them documented by a medical professional. After you have received medical attention, you should also:
● Get information from witnesses. If you are with another person, you can ask them to do so while you're seeking medical help. Get contact information and a brief statement.
● Report the accident to the property owner or manager. Ask them to create a written report.
● Document your own experience. Write down the details you remember and, if possible, take photos or video. It is also a good idea to photograph and/or keep your clothing and shoes in case there are legal questions about them later.
● Talk to an attorney. An experienced personal injury attorney can help you understand whether you have a reasonable case.
If your loved one was negligent, leading to your fall, you may have to file a claim with their insurance company to receive compensation for your medical expenses and other damages. Having an attorney involved can let you step away from communicating directly about the case with someone you are close to.
States like Georgia that use a standard of comparative negligence in personal injury law allow juries to assign a percentage of blame to each party involved. Let's say that you were walking through a store, and you slipped on a puddle of water. The puddle was left from a negligent employee who had been mopping the floor, but failed to put up any signage or clean up properly. However, you were looking at your phone when you slipped and weren't paying full attention to your surroundings. A jury might say that the store was 60 percent responsible for the accident and you were 40 percent responsible because you were not attentive. You would receive only 60 percent of the damages (including medical bills) that you incurred.
With comparative negligence, it's especially important for an experienced personal injury attorney to take the reins and manage your case. That helps you get the highest percentage of damages that you can.
Under Georgia law, you will have to file a lawsuit within two years of the accident to recover damages for personal injuries. However, if you had property damage (such as if you broke an expensive piece of jewelry in your fall), you have four years to file legal action.
Because slip and fall accidents vary widely, it's impossible to assign a value to your case. That's something for judges, juries or legal professionals in a negotiation to decide. You could receive money to cover your initial medical bills, ongoing treatment and therapy, time off work and time when you were unable to manage regular household responsibilities and had to hire help. Talk to your attorney about a more exact estimate.
Do not hesitate to contact our office if you feel that your rights have been violated. We are prepared to advise you on the next line of action to take.
Our Office in Tucker, Georgia
Just a half hour from downtown Atlanta, our office is located at 4500 Hugh Howell Rd. in the Heritage Place development in Tucker. If you are unable to meet at our office due to your injuries, we are more than willing to make accommodations in order to serve you. Whatever your situation, if you've experienced a car accident in Atlanta, call our team today.
Get Directions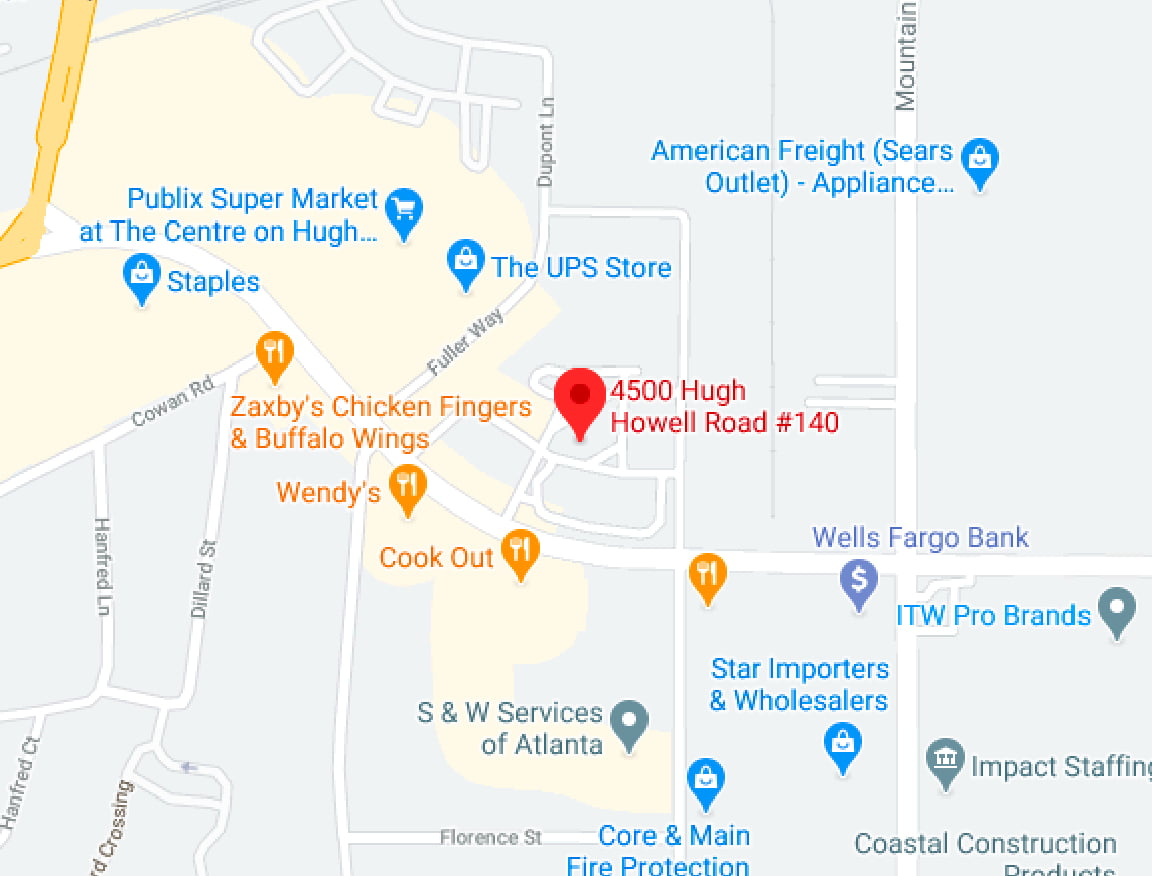 Contact Us
Tucker Office
4500 Hugh Howell Rd
Suite 140
Tucker, GA 30084
Get Directions
Mailing Address
P.O. Box 2558
Tucker, GA 30085
Find Us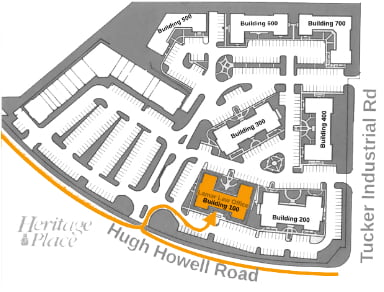 Click to enlarge