Atlanta, GA
Experienced Motorcycle Accident Lawyers Atlanta GA
Whenever a motorcyclist is struck by a vehicle, there is always a high possibility of the outcome being disastrous. Since the motorcycle rider has minimal protection from such impact, they can easily sustain life-threatening injuries that can take them months or even years to recuperate from.
The consequences following a motorcycle accident can drain a person physically, mentally, and financially.
To obtain just compensation for your suffering, you will need the help of an experienced motorcycle accident lawyer to get you through this ordeal. Contact us for a free consultation.
Motorcycle Accidents Are More Prevalent Than Ever
Injuries to the head remain the leading cause of serious harm and death to people involved in motorcycle accidents. Meanwhile, speeding, driving under the influence, and neglecting severe weather conditions are also significant factors for these issues.
Experts have found that three-fourths of motorcycle accidents involved riders colliding with large vehicles. They also learned that in many of these mishaps, automobile drivers violated the right of way for motorcyclists two-thirds of the time.
If you or a loved one has been involved in a motorcycle accident, you should seek help from reputable attorneys who are experienced in handling these cases.
At Lamar Law Office, we have recovered $2,500,000 in settlements for our clients that were affected by motorcycle accidents.
Lamar Law Office Can Help You Get Through a Motorcycle Accident
Negligent drivers in Atlanta can easily miss seeing a motorcycle rider on the road until it is too late. When such carelessness leads to a serious accident that harms the biker, the driver at fault should be held accountable for their actions.
At Lamar Law Office, our expert motorcycle accident lawyer will guide you through the process of filing a personal injury lawsuit. Your case should help you obtain compensation for:
   

Medical expenses

   

Lost income

   

Pain and suffering

   

Physical therapy and rehabilitation
To find out more about how our motorcycle accident attorneys in Atlanta can help, get in touch with us today.
Lamar Law Office Has Your Back
When you choose us to handle your motorcycle accident case, we will start by assigning a legal team to collect all necessary records of your claim.
Your motorcycle accident lawyer and legal team will look into your accident in great detail and obtain useful evidence for your case. Evidence can include security camera footage, dashcam footage, and police records.
Our attorney will then negotiate with the responsible party so you can get the appropriate compensation you might be entitled to. We serve the greater Atlanta area, including Rockdale, GA with personal injury legal help. 
What Our Clients Say
I am so happy that I had The Lamar Law Firm on my side after my accident. Attorney Lamar and her entire staff were nothing but pleasant, professional and diligent in handling my case. I was given a thorough explanation about each stage and regular updates on the status of my case.
Attorney Lamar was recommended by a family member and she definitely lived up to their recommendation. My accident happened in the worst time of my life and it was very stressful with having to be off from work and going to therapy. Anita and the team were very professional and kept me in the loop with EVERYTHING.
Attorney Lamar and her team have been totally awesome from day one. I don't always have to call them they call me to check on me. I totally would recommend them to anyone. Excellent service!
I'm extremely pleased. I received the max compensation for a car accident that wasn't my fault. Mrs. Lamar's team was very responsive, kept me involved in the entire process and I receive the maximum amount that the insurance company offered for my injuries and damages.
Attorney Lamar is professional and kind. She is always willing to lend a helping hand. She also holds her own in the court room.
This law firm is on point and truly looks out for their respective client.
I am highly recommended Lawyer Lamar to anyone who's involved in a car accident. She handles the case with professionalism and makes sure you get your car fixed and get pay for your medical compensation
Thank you for representing me and handling my case so efficiently & professionally! The settlement is much more than I expected.
Attorney Lamar and her Amazing Team are so very professional, knowledgeable, caring and they communicate extremely well with you every step of the process! Attorney Lamar actually calls you herself to discuss details and she is also available for you to call her as well.
I have to give Attorney Anita Lamar outstanding praise. I have never had an Attorney that was as attentive to my concerns and case as Mrs. Lamar was.
More Than Just Legal Service
We Care
We know how difficult it can be to have you or your loved one injured in a motorcycle accident. We know that you simply do not have the time or energy to deal with all the insurance agents and creditors who will be pestering you along the way.
That's why Lamar Law Office is here to help. Let us deal with all the legal burdens while you prioritize getting back on your feet and recovering from your injuries.
Contact us today to get started.

Frequently Asked Questions
Although most insurance agencies might offer settlements, individuals who choose expert legal representation normally get far better benefits compared to those who do not.
After making sure that any and all injuries have been dealt with, here is what you should do next:
1. Acquire a copy of the report made by the police for the accident
2. Take photos of the damages and injuries you have sustained
3. Keep a record of your medical treatments and missed days of work
4. Never supply information about the accident except to your doctor and insurance agent
5. Do not settle with an offer from an insurance agency until you have consulted with us
At Lamar Law Office, we only collect a fee once we have won your case. If we cannot produce results for your case, you do not owe us a penny.
Disclaimer: "Fees" refer only to fees charged by the attorney. Court costs and other additional expenses of legal action usually must be paid by the client. Contingency fees are not permitted in all types of cases. 
Our motorcycle accident attorneys can assist you in completing the claim process. Apart from accomplishing the initial claim procedure and submitting all necessary paperwork on time, our lawyers can negotiate on your behalf so you can get appropriate compensation.
Going to court for a motorcycle accident is always a possibility, especially if you are pursuing a personal injury claim. However, these injury claims can often be resolved before a trial is needed.
If you can agree with the other party on an appropriate settlement, then you do not need to make additional appearances in court.
Our Office in Tucker, Georgia
Just a half hour from downtown Atlanta, our office is located at 4500 Hugh Howell Rd. in the Heritage Place development in Tucker. If you are unable to meet at our office due to your injuries, we are more than willing to make accommodations in order to serve you. Whatever your situation, if you've experienced a car accident in Atlanta, call our team today.
Get Directions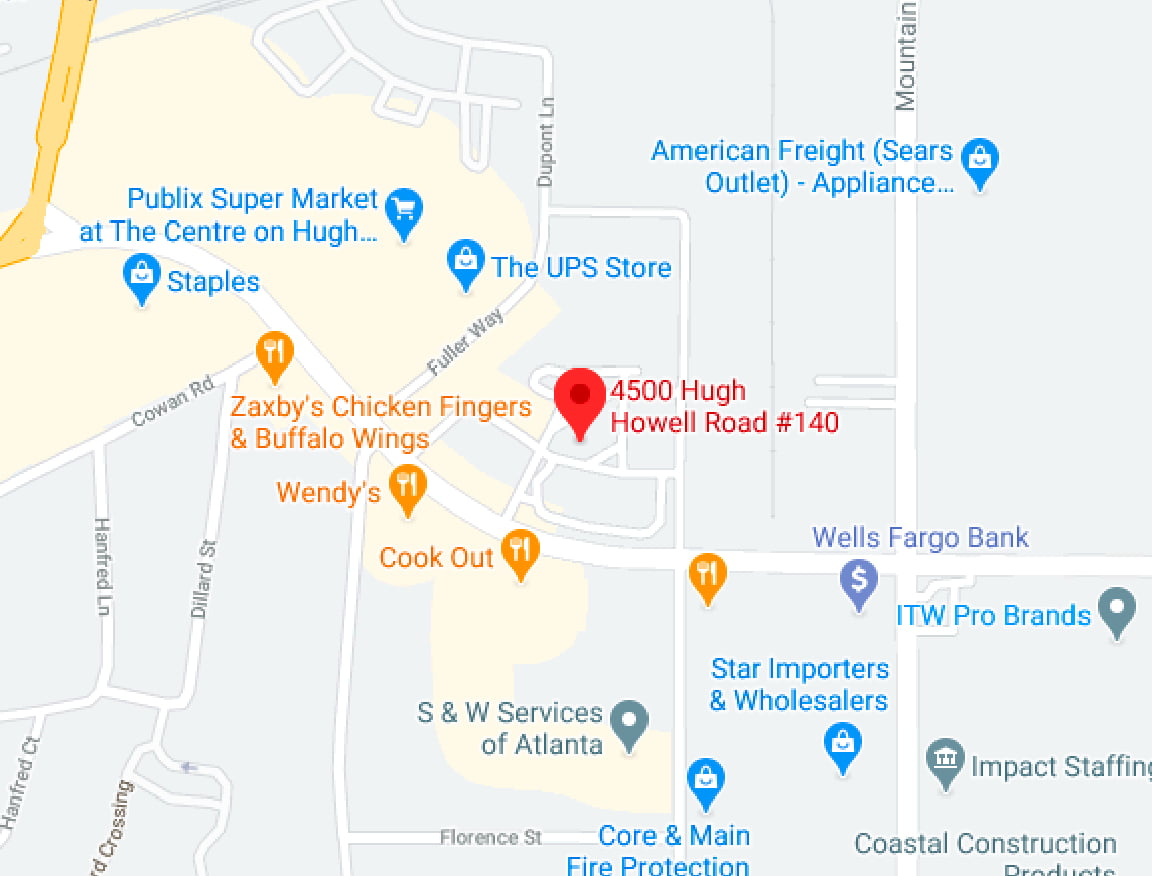 Contact Us
Tucker Office
4500 Hugh Howell Rd
Suite 140
Tucker, GA 30084
Get Directions
Mailing Address
P.O. Box 2558
Tucker, GA 30085
Find Us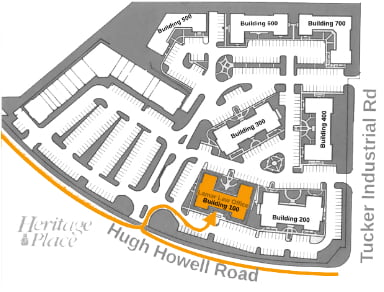 Click to enlarge