Atlanta, GA
Experienced Pedestrian Accident Lawyers Atlanta GA
Pedestrians who are hit by vehicles often endure life-altering injuries as most do not possess the same protections as drivers. Approximately 11,084 pedestrians were injured in motor vehicle accidents in 2010, according to the Department of Motor Vehicles, in addition to 149 pedestrian fatalities. If you are the victim of a pedestrian accident, finding a personal injury attorney to help you recover damages can be critical to your future and well-being. At Lamar Law Office, we work hard to protect pedestrians who have sustained injuries due to the negligence or reckless behavior of a driver.
Pedestrians remain an integral part of the modern transportation system. Unfortunately, not all drivers on the road take the proper precautions to ensure that everyone remains safe and unharmed. If you or a loved one has suffered losses due to a pedestrian accident, know that there is justice. Contact Lamar Law Office today to schedule a free case evaluation and find out how we can help you with your claim.
Pursuing a Pedestrian Accident Case
You never expect to be involved in a pedestrian accident. However, these incidents can happen in an instant and change your whole life. While there is nothing that can make up for the trauma the accident caused, the right lawyer can make the claim process easier and provide much-needed relief. With the assistance of our experienced personal injury lawyer at Lamar Law Office, we can help you recover a range of losses, such as:
Reimbursement for medical expenses
Loss of expected future wages/earnings
Rehabilitation costs
Pain and suffering
Long-term care or disability costs
Other expenses found applicable to your case
In Georgia, there are laws in place to prevent pedestrian accidents from occurring. Under Georgia statute §40-6-93, it states:
"Every driver of a vehicle shall exercise due care to avoid colliding with any pedestrian upon any roadway, shall give warning by sounding his horn when necessary, and shall exercise proper precautions upon observing any child or any obviously confused, incapacitated, or intoxicated person."
When determining fault, our accomplished personal injury attorney will look at all aspects of the case, including whether or not the driver's version is the same as yours. We will also look at details, such as if the collision occurred during the day or at night. If previous accidents occurred at the same location, we may also discover that there are visibility factors that may have contributed to the accident. All of these factors are important when determining who is at fault for injuries sustained after an accident.
Common Causes of Pedestrian Accidents
A pedestrian is defined as someone who walks along a road or in a developed area like a neighborhood. While walking on the road can sometimes be unavoidable, whenever a person chooses to walk along roadways they put themselves at an increased risk for an accident. Even pedestrians who remain on the sidewalk can become involved in an accident when crossing an intersection. The majority of pedestrian accidents are caused by the inattentiveness of a motorcycle or automobile driver. Other top causes of pedestrian accidents include:
Speeding (8.3%)
Failure to Yield Right of Way (20.6%)
Pedestrian Mistakes (21.5%)
Distracted Drivers (36%)
In busy cities with higher traffic rates, pedestrian accidents are often linked to aggressive driving. Drivers are more likely to engage in road rage, drive at unsafe speeds, violate traffic signals, and make unlawful turns. In some instances the pedestrian is at fault. This may occur when a pedestrian fails to use a designated crosswalk or does not cross at an intersection. In some instances, a pedestrian may dart out in front of a vehicle making it impossible for the car to stop in time. Pedestrian accidents are more common at night due to low visibility and a lack of reflective gear.
Pedestrian Accident Injuries
Injuries from a pedestrian accident can range from a few bumps and bruises to broken bones and brain injuries. However, injuries can vary based on the type of vehicle, the speed of the driver, as well as the age and overall health of the pedestrian. Pedestrians who have been hit by vehicles often suffer injuries to the chest, abdomen, head, and extremities. Common injuries sustained in pedestrian accidents include:
Lacerations
Lacerations appear as deep tears or cuts in the skin. The treatment needed and length of recovery depends on the location of the laceration and how deep it is.
Bone Fractures
A bone fracture is the partial or complete break in the continuity of a bone. This is one of the most common types of injuries suffered by pedestrians caused by the external force of the vehicle.
Pelvic Injuries
Due to the hood design of many modern vehicles, pedestrian accidents often result in pelvic injuries. If the injury caused numerous breaks in the pelvic region, it may be life threatening.
Head Trauma
Trauma to the head and brain are of major concern after a pedestrian accident. Head trauma can be minor, such as a contusion or cut to the head, or can be more severe like a concussion or fractured skull bone.
Spinal Cord Injuries
The spinal cord is responsible for transmitting signals between the body and brain. Even minor spinal cord injuries can have devastating long-term health effects.
Internal Injuries
Bleeds to the brain, rib fractures, internal bleeding, and other types of internal injuries can be very serious as they cannot be seen without proper medical intervention. It is important to see a doctor following a pedestrian accident to rule out internal injuries.
Death
In severe pedestrian accidents, death can occur.
Did you know?
In 2016, 5,987 pedestrians were killed in traffic crashes in the United States. This averages to one crash-related pedestrian death every 1.5 hours.
Who is most at risk?
According to the CDC:
Older adults
Pedestrians ages 65 and older accounted for 20% of all pedestrian deaths in 2016 and an estimated 15% of all pedestrians injured in 2015
Children
In 2016, one in every five children under the age of 15 who were killed in traffic crashes were pedestrians.
Drivers and pedestrians who are alcohol-impaired
Almost half (48%) of crashes that resulted in pedestrian deaths involved alcohol for the driver or the pedestrian. One in every three (33%) of fatal pedestrian crashes involved a pedestrian with a blood alcohol concentration (BAC) of at least 0.08 grams per deciliter (g/dL) and 13% involved a driver with a BAC of at least 0.08 g/dL.
Additional Risk Factors
Additionally, higher vehicle speeds increase both the likelihood of a pedestrian being struck by a car and the severity of injury.
Most pedestrian deaths occur in urban areas, non-intersection locations, and at night.
What Our Clients Say
I am so happy that I had The Lamar Law Firm on my side after my accident. Attorney Lamar and her entire staff were nothing but pleasant, professional and diligent in handling my case. I was given a thorough explanation about each stage and regular updates on the status of my case.
Attorney Lamar was recommended by a family member and she definitely lived up to their recommendation. My accident happened in the worst time of my life and it was very stressful with having to be off from work and going to therapy. Anita and the team were very professional and kept me in the loop with EVERYTHING.
Attorney Lamar and her team have been totally awesome from day one. I don't always have to call them they call me to check on me. I totally would recommend them to anyone. Excellent service!
I'm extremely pleased. I received the max compensation for a car accident that wasn't my fault. Mrs. Lamar's team was very responsive, kept me involved in the entire process and I receive the maximum amount that the insurance company offered for my injuries and damages.
Attorney Lamar is professional and kind. She is always willing to lend a helping hand. She also holds her own in the court room.
This law firm is on point and truly looks out for their respective client.
I am highly recommended Lawyer Lamar to anyone who's involved in a car accident. She handles the case with professionalism and makes sure you get your car fixed and get pay for your medical compensation
Thank you for representing me and handling my case so efficiently & professionally! The settlement is much more than I expected.
Attorney Lamar and her Amazing Team are so very professional, knowledgeable, caring and they communicate extremely well with you every step of the process! Attorney Lamar actually calls you herself to discuss details and she is also available for you to call her as well.
I have to give Attorney Anita Lamar outstanding praise. I have never had an Attorney that was as attentive to my concerns and case as Mrs. Lamar was.
Our Office in Tucker, Georgia
Just a half hour from downtown Atlanta, our office is located at 4500 Hugh Howell Rd. in the Heritage Place development in Tucker. If you are unable to meet at our office due to your injuries, we are more than willing to make accommodations in order to serve you. Whatever your situation, if you've experienced a car accident in Atlanta, call our team today.
Get Directions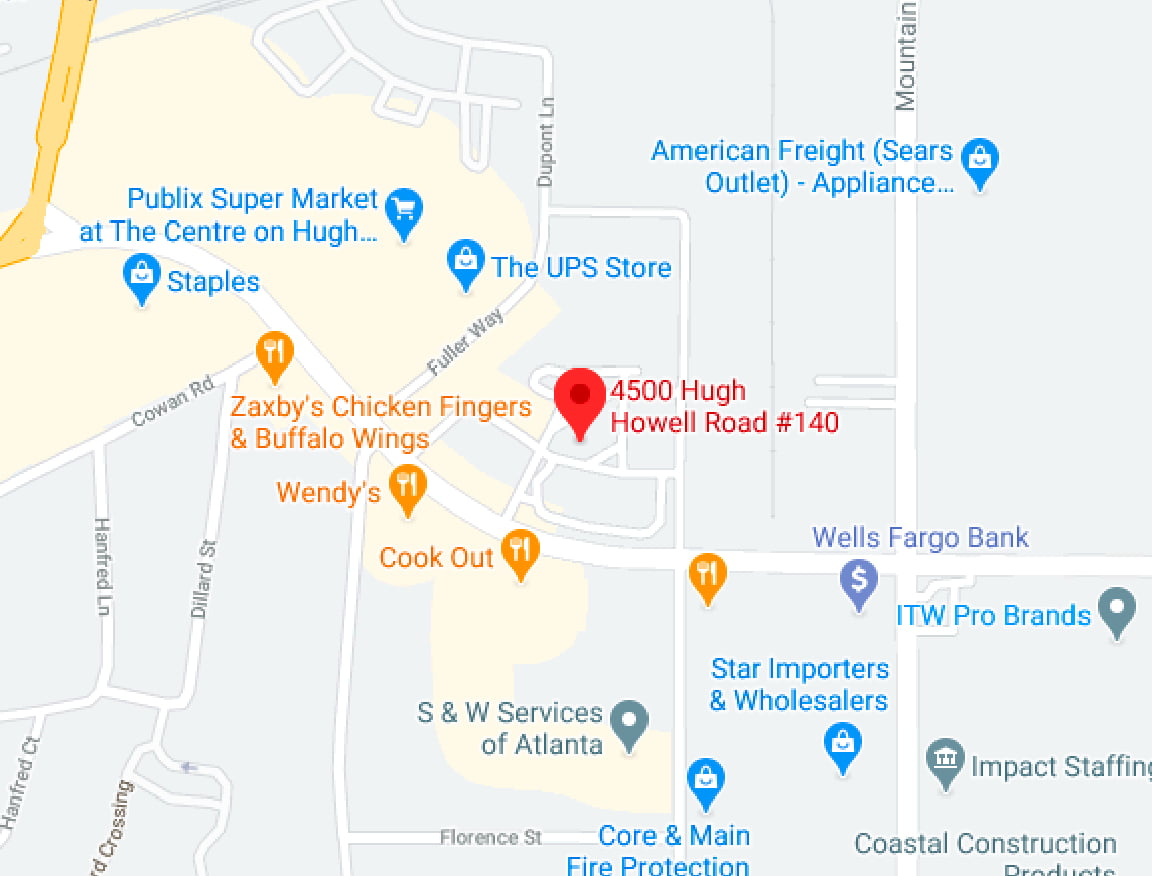 Contact Us
Tucker Office
4500 Hugh Howell Rd
Suite 140
Tucker, GA 30084
Get Directions
Mailing Address
P.O. Box 2558
Tucker, GA 30085
Find Us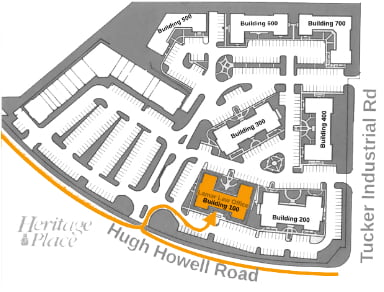 Click to enlarge