Atlanta, GA
An Experienced Motorcycle Accident Lawyer
When a motorcycle crash occurs, the driver who caused the accident can be held legally liable for any and all injuries that result. This is true regardless of whether you were wearing a motorcycle helmet at the time of the accident Compensation for these expenses can include: medical bills and costs, lost wages, pain and suffering, emotional distress and/or the wrongful death of a loved one in a motorcycle accident. You can collect this compensation from the driver by filing a personal injury claim that is resolved either through an out-of-court settlement agreement or decided in a court of law.
If you or a loved one has suffered losses due to a motorcycle accident, know that there is justice. Contact Lamar Law Office today to schedule a free case evaluation and find out how we can help you with your claim.
Injuries Suffered by Motorcyclists
Motorcycle riders who are involved in a car accident could be hurt as a result of the impact from the crash, as a result of flying debris or by being thrown from their bike. Some of the most common injuries that a motorcycle rider is likely to suffer in an accident include:
Broken bones
Brain injuries including traumatic brain injury (TBI); concussions, contusions, skull fractures or brain hemorrhages
Road rash (cuts, bruises and abrasions after being thrown off of the bike)
Paralysis resulting from spinal cord injury
Injuries to the soft tissues of the neck, back or knees
Shoulder and neck injuries
Ankle injuries
Amputations
These and other injuries often result in significant pain and suffering, and require expensive medical care. Unfortunately, many injuries never heal and these victims have to cope with the medical impairments for the rest of their lives.

May is Motorcycle Safety Awareness Month in Georgia
It is unfortunately the gross disproportion of the amount of motorcyclists involved in traffic crashes and losing their lives. As states motorcyclists are 27 times more likely to die in an a crash and five times more likely to be injured. It is important that vehicle drivers remain aware of their surroundings and always pay complete attention. Even the smallest momentary lapse in attention can result in the death of an unseen motorcyclist.
"We want to spread the word to vehicle drivers to keep an eye out for motorcyclists and to always remember to Share the Road," said DDS Commissioner Spencer R. Moore. "It is very easy to overlook a motorcycle due to their smaller size. For this reason, it is vital that we put forth extra effort in keeping watch."
Get Up to Speed on Motorcycles, an awareness building campaign developed by The U.S. Department of Transportation's National Highway Traffic Safety Administration (NHTSA), brings drivers up to speed on common motorcyclist riding behaviors and highlights simple things drivers can do to increase the safety of their two-wheeled friends. The goal of this material is to create safer roads and save lives. GSMP social media sites will be featuring this messaging during the month of May and is available on the DDS Facebook site.
"The best way to celebrate Motorcycle Safety Awareness Month is to always wear a helmet and to support all-rider helmet laws to ensure fellow riders do the same," said Commissioner Moore. "Wearing a helmet is imperative to the safety of our riders. Just like motorists buckling their seat belts, using a helmet can drastically increase survival rates in the event of a vehicle crash. NHTSA data estimates that helmets saved 1,859 motorcyclists' lives in 2016, and that 809 more lives could have been saved if all motorcyclists had worn their helmets."
Little Known Facts About Motorcycle Accidents
Approximately ¾ of motorcycle accidents involve collisions with another vehicle, most often a passenger automobile.
Only about ¼ of motorcycle accidents are single vehicle accidents involving the motorcycle colliding with the roadway or some fixed object in the environment.
Vehicle failure accounts for less than 3% of motorcycle accidents, and most of those are single vehicle accidents where control is lost due to a puncture flat.
In single vehicle accidents, about 2/3 of the accidents are caused by rider error, typically a slide-out and fall due to overbraking or running wide on a curve due to excess speed or under-cornering.
Did you know?
A total of 5,172 motorcyclists died in crashes in 2017. Motorcyclist deaths had been declining since the early 1980s but began to increase in 1998 and continued to increase through 2008. Motorcycle deaths accounted for 14 percent of all motor vehicle crash deaths in 2017 and were more than double the number of motorcyclist deaths in 1997.
Safety Procedures for Motorcyclist Courtesy Of NHTSA
WEAR THE PROPER PROTECTION
If you're ever in a serious motorcycle crash, the best hope you have for protecting your brain is a motorcycle helmet. Always wear a helmet meeting the U.S. Department of Transportation (DOT) Federal Motor Vehicle Safety Standard (FMVSS) 218. Look for the DOT symbol on the outside back of the helmet. Snell and ANSI labels located inside the helmet also show that the helmet meets the standards of those private, non-profit organizations. Learn more about choosing the right helmet.
Arms and legs should be completely covered when riding a motorcycle, ideally by wearing leather or heavy denim. In addition to providing protection in a crash, protective gear also helps prevent dehydration. Boots or shoes should be high enough to cover your ankles, while gloves allow for a better grip and help protect your hands in the event of a crash. Wearing brightly colored clothing with reflective material will make you more visible to other vehicle drivers.
RIDE RESPONSIBLY
Experienced riders know local traffic laws – and they don't take risks. Obey traffic lights, signs, speed limits, and lane markings; ride with the flow of traffic and leave plenty of room between your bike and other vehicles; and always check behind you and signal before you change lanes. Remember to ride defensively. The majority of multi-vehicle motorcycle crashes generally are caused when other drivers simply didn't see the motorcyclist. Proceed cautiously at intersections and yield to pedestrians and other vehicles as appropriate. You can increase your visibility by applying reflective materials to your motorcycle and by keeping your motorcycle's headlights on at all times, even using high beams during the day.
BE ALCOHOL AND DRUG FREE
Alcohol and drugs, including some prescribed medications, negatively affect your judgment, coordination, balance, throttle control, and ability to shift gears. These substances also impair your alertness and reduce your reaction time. Even when you're fully alert, it's impossible to predict what other vehicles or pedestrians are going to do. Therefore, make sure you are alcohol and drug free when you get on your motorcycle. Otherwise, you'll be heading for trouble.
What Our Clients Say
I am so happy that I had The Lamar Law Firm on my side after my accident. Attorney Lamar and her entire staff were nothing but pleasant, professional and diligent in handling my case. I was given a thorough explanation about each stage and regular updates on the status of my case.
Attorney Lamar was recommended by a family member and she definitely lived up to their recommendation. My accident happened in the worst time of my life and it was very stressful with having to be off from work and going to therapy. Anita and the team were very professional and kept me in the loop with EVERYTHING.
Attorney Lamar and her team have been totally awesome from day one. I don't always have to call them they call me to check on me. I totally would recommend them to anyone. Excellent service!
I'm extremely pleased. I received the max compensation for a car accident that wasn't my fault. Mrs. Lamar's team was very responsive, kept me involved in the entire process and I receive the maximum amount that the insurance company offered for my injuries and damages.
Attorney Lamar is professional and kind. She is always willing to lend a helping hand. She also holds her own in the court room.
This law firm is on point and truly looks out for their respective client.
I am highly recommended Lawyer Lamar to anyone who's involved in a car accident. She handles the case with professionalism and makes sure you get your car fixed and get pay for your medical compensation
Thank you for representing me and handling my case so efficiently & professionally! The settlement is much more than I expected.
Attorney Lamar and her Amazing Team are so very professional, knowledgeable, caring and they communicate extremely well with you every step of the process! Attorney Lamar actually calls you herself to discuss details and she is also available for you to call her as well.
I have to give Attorney Anita Lamar outstanding praise. I have never had an Attorney that was as attentive to my concerns and case as Mrs. Lamar was.
Our Office in Tucker, Georgia
Just a half hour from downtown Atlanta, our office is located at 4500 Hugh Howell Rd. in the Heritage Place development in Tucker. If you are unable to meet at our office due to your injuries, we are more than willing to make accommodations in order to serve you. Whatever your situation, if you've experienced a car accident in Atlanta, call our team today.
Get Directions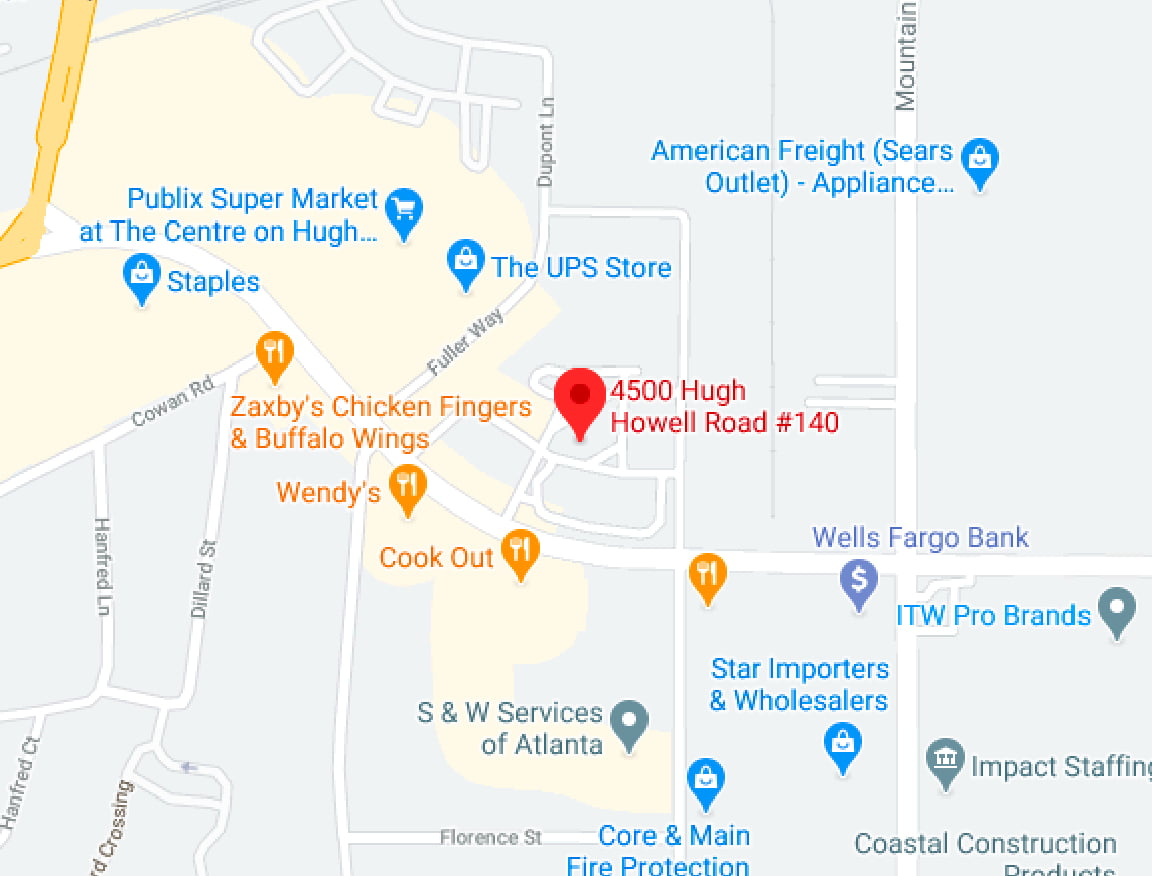 Contact Us
Tucker Office
4500 Hugh Howell Rd
Suite 140
Tucker, GA 30084
Get Directions
Mailing Address
P.O. Box 2558
Tucker, GA 30085
Find Us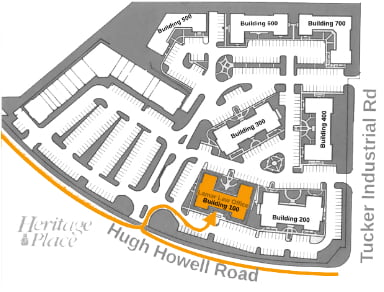 Click to enlarge