Atlanta, GA
An Experienced Wrongful Death Lawyer
If you have been injured in a bicycle accident in Atlanta, GA, call Lamar Law Office right away. The team at Lamar Law Office has been representing the residents of Atlanta, as well as the surrounding areas, for years with strong personal injury legal support after they have been involved in a slip and fall accident. Anita Lamar is a trusted Atlanta slip and fall accident lawyer who stands up for her clients and provides legal service that treats each client as a top priority. Unlike other attorneys who choose to focus only on their most significant cases, Anita Lamar handles every case with care so that each client feels confident and comfortable in their legal battle.
What Is Wrongful Death?
Georgia state law defines a "wrongful death" as the death of one person caused by the "negligent, reckless, intentional, or criminal" acts of another person or entity (such as a business). Negligence is typically defined as a failure to use reasonable care when there is a duty to do so, resulting in harm to another.
Do I Have To Prove Negligence When Pursuing A Wrongful Death Lawsuit?
In some ways, a wrongful death case is similar to a standard personal injury claim. Negligence must also be proven in many types of personal injury claims, and both a personal injury claim and a wrongful death claim may be based upon a similar event, like a car accident. However, in a wrongful death claim, the injured person is no longer available to bring his or her own case to court. Instead, the case must be brought by the deceased person's family members — or by the personal representative of the deceased person's estate if there are no living family members who are allowed to bring the claim (more on this in the next section).
However the difference between an automobile accident or similar event that results is an injury is the loss of life is arguably the most damaging loss that can be suffered. As a result it is important to hire an attorney who not only considers liability on the part of the at faulty driver but also considers culpability related to faulty roadway, defective design and other related third parties such as employers or servers at a dining or drinking establishment.
At Lamar Law Office, LLC we appreciate that losing a loved one is a traumatic event and for that reason we thoroughly research every avenue of compensation to recover for the loss.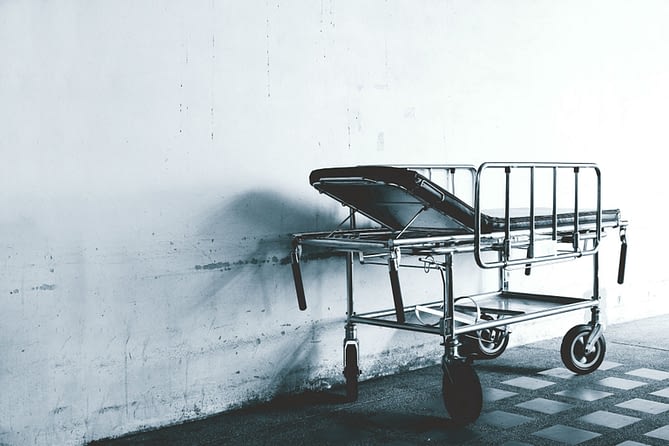 Who Can File A Wrongful Death Lawsuit?
Who is allowed to file a wrongful lawsuit is outlined in Georgia Laws O.C.G.A. § 51-4-2, § 51-4-4, and § 19-7-1. Those statutes state that in the event of a person's death, their spouse may bring a wrongful death on their behalf. If the spouse and the deceased person had minor children, the surviving spouse must also represent the interests of the children in court.
If the decedent had no surviving spouse then the wrongful death lawsuit may be brought by the decedent's children. If the decedent is without a spouse or children then the lawsuit may be brought by parents of the deceased. If the decedent has no living spouse, children or parents then the lawsuit may be brought by the personal representative of the deceased person's estate.
However in certain circumstances the Court may allow the lawsuit to be brought by the children or parents even if the decedent has a living spouse. Especially if the living spouse is unavailable, unable to properly bring the suit and of no blood relation to the decedent's minor children.
How Is The Money From A Wrongful Death Settlement/Lawsuit Divided?
Under Georgia law any money received pursuant to a wrongful death case "shall be equally divided, share and share alike, among the surviving spouse and the children." O.C.G.A. § 51-4-2(d)(1). Meaning in most cases the surviving spouse receive the same share. If a child of the decedent is under the age of eighteen, that child's parent/guardian will be responsible for handling the minor child's portion.
However, the surviving spouse shall never receive less than one-third of the recovery. O.C.G.A. § 51-4-2(d).
As with most things with the law there are some exceptions to how the money is divided. If a decedent dies with no surviving spouse, the surviving parents share equally in any money recovered. However, if the parents are not married there can be a determination made by the Court as to the allocation or division of the money. In most instances, it is better to still divide the monies equally however in some cases a determination by the Court is warranted.
What Our Clients Say
I am so happy that I had The Lamar Law Firm on my side after my accident. Attorney Lamar and her entire staff were nothing but pleasant, professional and diligent in handling my case. I was given a thorough explanation about each stage and regular updates on the status of my case.
Attorney Lamar was recommended by a family member and she definitely lived up to their recommendation. My accident happened in the worst time of my life and it was very stressful with having to be off from work and going to therapy. Anita and the team were very professional and kept me in the loop with EVERYTHING.
Attorney Lamar and her team have been totally awesome from day one. I don't always have to call them they call me to check on me. I totally would recommend them to anyone. Excellent service!
I'm extremely pleased. I received the max compensation for a car accident that wasn't my fault. Mrs. Lamar's team was very responsive, kept me involved in the entire process and I receive the maximum amount that the insurance company offered for my injuries and damages.
Attorney Lamar is professional and kind. She is always willing to lend a helping hand. She also holds her own in the court room.
This law firm is on point and truly looks out for their respective client.
I am highly recommended Lawyer Lamar to anyone who's involved in a car accident. She handles the case with professionalism and makes sure you get your car fixed and get pay for your medical compensation
Thank you for representing me and handling my case so efficiently & professionally! The settlement is much more than I expected.
Attorney Lamar and her Amazing Team are so very professional, knowledgeable, caring and they communicate extremely well with you every step of the process! Attorney Lamar actually calls you herself to discuss details and she is also available for you to call her as well.
I have to give Attorney Anita Lamar outstanding praise. I have never had an Attorney that was as attentive to my concerns and case as Mrs. Lamar was.
More Than Legal Services
We Care
Lamar Law Office's experienced team is committed to providing our clients with unmatched customer service. We know that legal processes can add stress on top of a stressful, life-altering car accident. Sensitive to our clients' need to recover from their accident, Lamar Law Office's team goes above and beyond to outline expectations, communicate, and achieve justice in a timely manner – whether by negotiating a settlement or taking your personal injury claim to trial. At Lamar Law Office, we provide more than legal services… We Care.
Contact Us

Frequently Asked Questions
In most cases you only have two (2) years to bring a wrongful death lawsuit. However the specific facts or circumstances of your case can cause the time to be shorter or longer.
Be reminded that monies recovered from wrongful death claims is divvied up differently than money from wrongful death lawsuits. Estate claims are divided pursuant to the Decedent's will. In the event that the decedent died intestate or without a will then there are laws that determine how the money is divided to the decedent's heir.
Under intestate law, your spouse inherits all of your intestate estate if you have no living children or living grandchildren. If you do have living children then the spouse and living children divide the intestate estate equally with the spouse receiving at least one third. If you are survived by grandchildren and not children the grandchildren take the portion the children would have been entitled to receive. If you are unmarried and without children then your surviving parents inherit your intestate estate in equal portion. In the event no heirs are located the estate is transferred to the board of education of the decedent's county of residence.
Georgia recognizes two separate and distinct types of wrongful death claims. The first is a claim to establish the "full value of the life of the deceased." This claim is brought by or on behalf of the surviving family members of the deceased person. It includes monetary damages related to both the financial and intangible value of the deceased person's life, such as lost wages and benefits, including what the deceased person might reasonably have earned if he or she had lived, and loss of care, companionship, and other intangible benefits the deceased provided to loved ones. The second kind of claim is one that is meant to remedy the financial losses related to the deceased person's death. This claim is brought by or on behalf of the deceased person's estate, and it seeks
Our Office in Tucker, Georgia
Just a half hour from downtown Atlanta, our office is located at 4500 Hugh Howell Rd. in the Heritage Place development in Tucker. If you are unable to meet at our office due to your injuries, we are more than willing to make accommodations in order to serve you. Whatever your situation, if you've experienced a car accident in Atlanta, call our team today.
Get Directions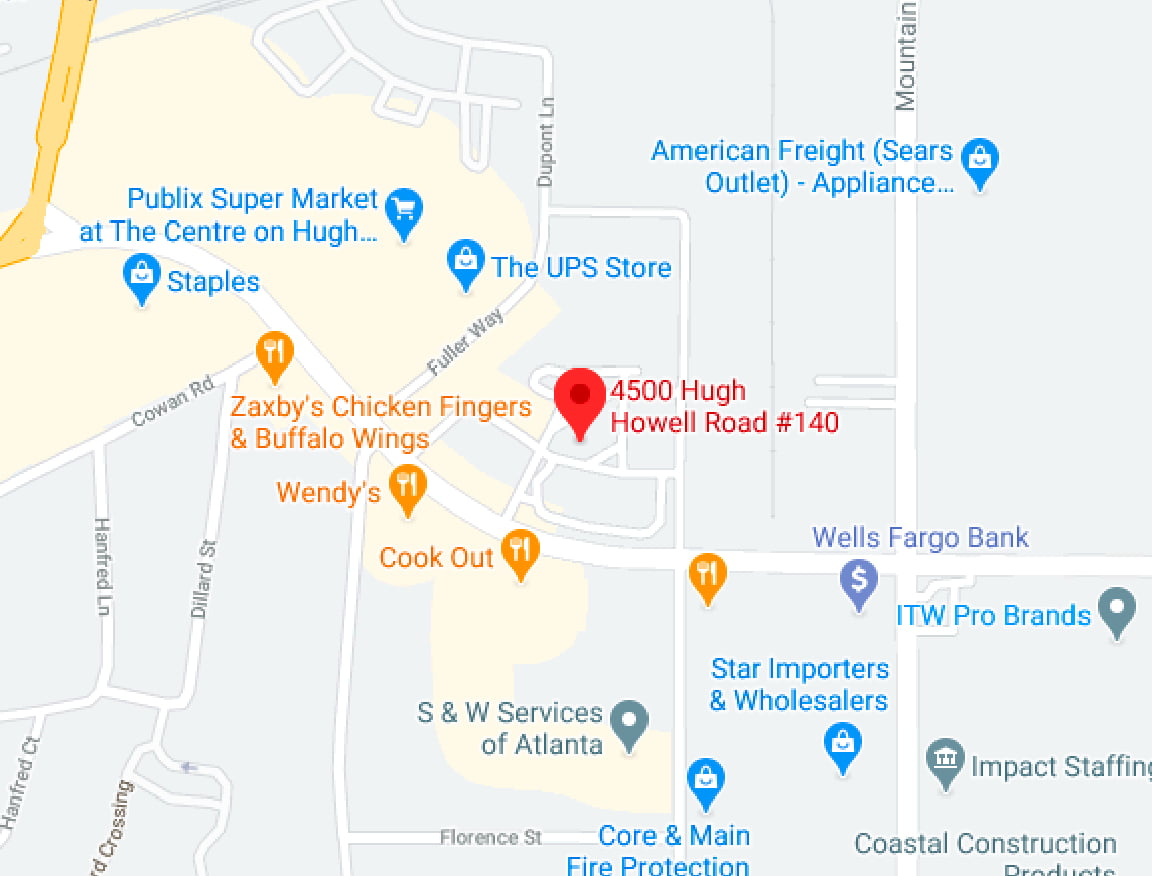 Contact Us
Tucker Office
4500 Hugh Howell Rd
Suite 140
Tucker, GA 30084
Get Directions
Mailing Address
P.O. Box 2558
Tucker, GA 30085
Find Us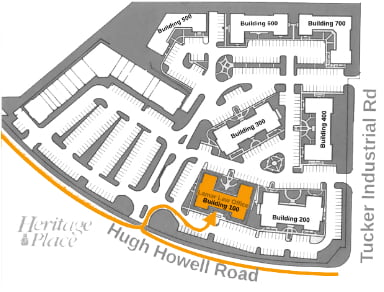 Click to enlarge